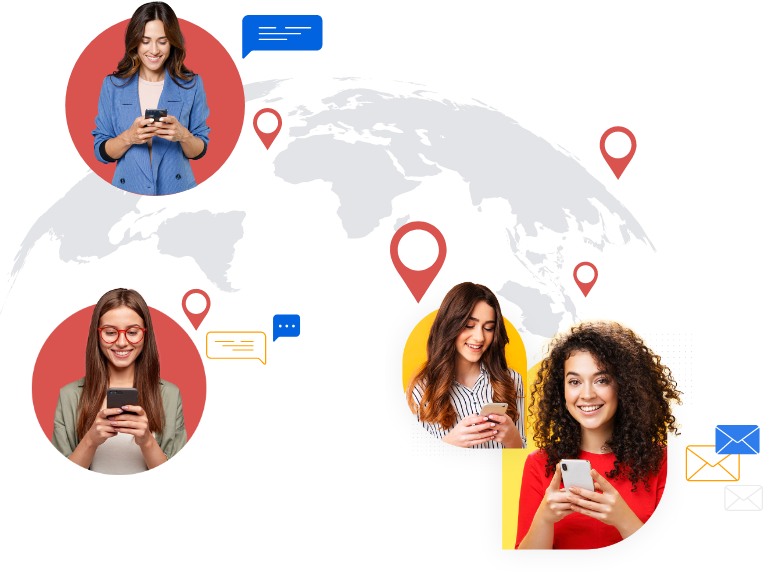 ILDO SMS messaging
The businesses grow when they reach the people as well as connect with them after the sales services. The successive business growth depends on its market reach internationally. It is common for an organization to encounter communication errors and difficulty in reaching out to large numbers of customers at once. Thus, International Long Distance Operator (ILDO) SMS is the ideal solution for all the problems associated with the digital era to reach a large audience with little effort, Bulk SMS can be sent via International Long Distance operator routes to foreign customers.
International messaging refers to the communication that is sent to the customers of foreign countries. Businesses would never face communication error if following the country's norms and conditions. SMS is best fit to send the business messages regarding transactional, promotional or other information. The international long distance operator ILDO SMS uses the different routes to use the operator communication channels on the urgency basis. The delivery rate of ILDO messaging is about 100% if the receiver device is perfect to get the message.
What is the ILDO route?
An ILDO is a business company or individual licensed by the government to provide international long distance communications. It's an operator that communicates the international long distance operator ILDO requests on the national long distance operator channels NLDO. Calls originating from abroad are routed first through an ILDO, who forwards them to an national long distance operator, where the call is made.
ILDO SMS messaging to India: Regulations & Guidelines
TRAI DLT regulations are applicable in sending messaging in India. The DLT registration is required before sending any business SMS to many recipients. Senders are required to register on the Distributed Ledger Technology (By TRAI). But in case of ILDO messaging, no DLT process is required. In India, businesses that cannot register as local businesses are considered foreign businesses and therefore have access to the ILDO service, which allows them to send messages within India. With an ILDO route, which does not require programme registration, you can start transmitting SMS much faster. It avoids DND scrubbing.
The SMS on ILDO routes are entertained successfully even if the sender does not qualify for the DLT registrations. The sender can still be able to send SMS to its prospective audiences. No DLT registration is required to send ILDO route messages in India. Sending a message using ILDO routes without a sender ID or using an unregistered sender ID results in your message being sent with a random number. A dedicated short code can be purchased instead if you need a fixed identity when sending messages to Indian numbers over ILDO.
Note:
All messages are delivered with a Short code.
Best suitable for 'over the top' traffic(OTT).
No DLT required.
DND scrubbing is not applicable for these routes.
Message transmitting flow ILDO to NLDO routes.
Repetitive content(more than 6) on the same number within an hour is not allowed.
Stock marketing & govt related messaging is not allowed. Need special permissions.
ILDO SMS service Provider
ILDO SMS service provider means the SMS gateway service who has been licensed for long distance route communications. As an ILDO bulk SMS service provider, Datagen allows businesses to easily communicate directly with their audiences from anywhere in the world to India. It can also serve as an international portal for users to inform, promote, and update others abroad with a few simple registration steps.
To know more on ILDO route SMS from your country, please enquiry HERE.